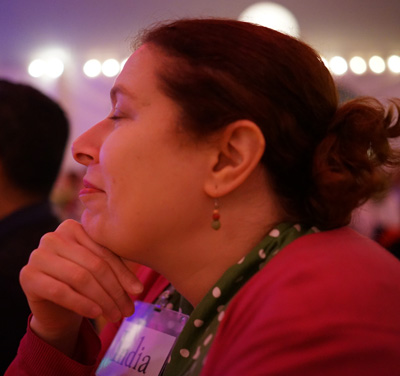 Résumé:
See also the Contact page for links to profiles elsewhere.
Looking for a short bio? That's here. This is the looooong bio.
---
Shortcuts
---
Background
I'm a native Manhattanite and longtime Brooklyn resident. I've also lived in Sacramento and Seattle.
Yes, India is my real name! No, my parents weren't hippies; I'm named after my grandmother.
My first experience with programming was typing out game code from a computer magazine and saving it to a cassette tape so I could play it on our TRS-80. So I grew up with amber-on-black monitors, and that's the color scheme I use on all my e-readers, whenever possible.
Education
Ancient history
I've never thought of myself as particularly STEM-y, but I went to a science day camp one summer as a tween, and for the next two or three summers I attended pre-engineering school through the New York Institute of Technology, where we learned things like CAD and the rudiments of calculus. Then I went to Stuyvesant, a specialized public high school for math and science.
At Williams College, I majored in English with a minor in Women's Studies, but I also had fun fulfilling the course distribution requirements by taking classes like The Chemistry and Physics of Cooking. Computer Science was not much of a thing there: only 10 students in my class of 539 majored in it, all of them men.
Early self- and community education
Once I was out of school, I started teaching myself things, mostly related to work I was doing or wanted to do.
I learned Web development by reading other people's code and modifying it; doing online tutorials; RTFM; delicately questioning the developers I worked with; and reading books on database design, HTML, CSS, XML, regular expressions, ColdFusion, usability, information architecture, graphic design, typography, and more. I was a member of the Computer Books Direct club, and I partied hard.
ITP
From 2008 to 2010, I attended ITP, a graduate program in arts and technology at New York University. There I took my first computer-related classes since junior high school. These included
I disliked the program enough to leave it without clearing two incompletes so I could graduate, but I enjoyed the programming parts.
#eprdctn
From 2010 to 2015, I did a lot of e-book QA and development, which is mostly HTML and CSS glued together with XML, some finicky zip settings, and hope. This meant working with a relatively new and rapidly changing assortment of hardware, software, vendor specs, and standards, and the two key books on the subject quickly became outdated. So e-book developers came to rely — and still do — on daily chatting via Twitter hashtag. The #eprdctn community made my work possible, and I give back whenever I can.
Grace Hopper Program
In 2017, I attended the Grace Hopper Program, a women-only 17-week immersive software engineering school within Fullstack Academy, which teaches JavaScript, SQL, Node, Express, React, Redux, HTML, CSS, and test-driven development, as well as CS fundamentals such as algorithms, data structures, and object-oriented programming. After graduating in September, I stayed on for another three months as a full-time teaching fellow.
Work experience
I've done many kinds of work, including construction, cooking, typesetting, and art direction. Below, therefore, are only the most tech-relevant highlights (not including building a lot of WordPress sites for myself, other people, and companies I worked for):
Stride Consulting, New York, NY
Consulting Software Developer II (2018–)
Stride is a nondogmatic agile consultancy whose engineers work alongside its clients' teams. Through Stride, I've worked on the following client engagements:
IBM (April–June 2019)
Back-end developer on the Digital Workspace Engineering w3 Notifications team.
Technologies used include Cassandra, GraphQL, Kafka, Node, TypeScript.
Blackboard Insurance (May 2018–March 2019)
I worked mostly on the front end of Underwriter Slate, a Web-based application that streamlines the issuing of commercial insurance policies. We built three lines of business: General Liability, Commercial Property, and Commercial Automobile.
Technologies used include CSS Grid, Enzyme, Flask, Jest, JMESpath, Material UI, Node, PostgreSQL, PyTest, Python, React, Redux, redux-form, reselect, Ruby on Rails
Being on a cross-functional team that paired whenever possible, I contributed to nearly every part of the app. But I developed particular expertise in optional endorsements, for which we had to render and persist data from forms whose structures came as dynamically generated JSON Schema files. I cataloged those structures to determine what kinds of inputs, validations, and layouts we needed to handle, and then test-drove the code for those forms. I also was acclaimed for my lively and well-organized sprint-end demos.
The Museum of Modern Art, New York, NY
Digital Media Producer (2016–2017)
As digital content producer for MoMA.org, I fielded requests from departments across the organization and made whatever site modifications could be handled by a non-engineer. This meant working with several CMSes, as well as directly editing or creating Ruby-on-Rails–based views and other miscellaneous chunks of Web. I also did a lot of content cleanup, and tidied up code that had been handled by too many freelancers and interns.
MoMA's Digital Media team adheres to agile workflow practices, so I participated in standups, retros, issue tracking (in Pivotal), and more. I documented every process I used, made an index of all the team's documentation, created onboarding checklists, and trained two new producers, as well as members of other departments who used our tools.
And I advanced from stumbling through intro-to-git tutorials to making commits and PRs every day. Woo!
Amplify Education, Brooklyn, NY
Senior Content Producer, EPUBs (2014–2015)
We licensed hundreds of e-books from publishers, and I (with the help of three direct reports, during a crunch period) tore down and rebuilt these so they would integrate cleanly with a variety of proprietary applications including a Web-based reading system, a lesson-delivery application, educational games, and a publishing tool that was, sprint by sprint, tweaked to my specifications.
I wrote documentation for every part of the process and trained the rest of the content production team in using the publishing system. I also performed some of the more complex conversions (e.g., a set of bilingual magazines) myself.
This was my first experience working with agile software teams. Although I wasn't technically on such a team, I wrote or resolved a lot of Jira tickets (including ones on issues not at all EPUB–related — e.g., audio encoding), participated in a lot of troubleshooting conversations, and worked closely with the developers and product owners of the applications I lived in.
F+W Media, New York, NY
Digital Production ePub QA Associate (2011–2012)
eBook Developer (2012–2014)
For three years, under two job titles, I cleaned up e-books converted by overseas vendors, and built some of the tricksier books from scratch. Eventually I cowrote a set of guidelines and QA checklists to help conversions get done better in the first place, and I started an internal blog to help educate colleagues from across the company about the processes and constraints involved in print-to-digital conversion.
F+W publishes a lot of heavily illustrated and highly formatted books, so this job was a nonstop carnival of problem-solving and extremely non-automated testing, plus documentation of bizarre and exciting rendering issues. All with no version control system except manually time-stamped file names…
The Academy of American Poets, New York, NY
Webmaster (1999–2001)
At one of my very first office jobs, I ended up managing Poets.org, which at the time was (and surely still is) one of the largest poetry sites on the Web. I had never even seen the Web before working there, but I learned to deal with the whole stack — including MS IIS, MS SQL Server, and a lot of ColdFusion — mostly by reading O'Reilly books and whatever documentation existed, in those dark days before StackOverflow. I also handled SEO and traffic analytics, wrote all of the site's FAQ pages, and fielded dozens of e-mails a day from users. I eventually had three direct reports, all of whom also learned HTML under my guidance.
Skills overview
I've picked up a lot of coding-related skills and experience in my career, and I'm in the habit of learning new things constantly and documenting what I learn so that others can benefit. I have longstanding interests in accessibility and in writing clean, maintainable code; I love linters; and I have been happiest when hewing close to the principles of Extreme Programming. I've provided technical training to colleagues and friends in many contexts, and people have told me they appreciate my patient and nonjudgmental instruction. I even made one self-avowed "friend for life" through one of my more expressive Jira tickets.
Skills are fungible, and I'm confident that I can learn whatever I need to, when I need to. But for a breakdown of what tools and practices I am familiar with as of the last time I got around to updating my résumé, please consult this Gist.
Extracurriculars
Besides learning everything I can about how to make great Web applications, my pastimes include reading, walking around the city, having opinions about food, baking cakes, photographing my cats, slinging bon mots on Twitter, and herding GIFs.